Simple, Ingenious, Unique - The milling-edging technique with etalbond® aluminium composite panels
etalbond® aluminum composite panels have been processed for decades for an extense variety of applications, in particular as facade elements and in the advertising industry. The plates can generally be processed very easily and with commercially available machines. During processing, one technique has proven to be particularly ingenious and unique and that is, forming by means of the milling-edging technique.
In this technique, a V-groove is milled into the back of the panels in the first step. The depth of this notch is defined in such a way that the lower aluminum surface layer (visible side) remains completely intact. See also the following graphic.
The V-groove is fabricated on CNC milling machines or hand routers with special milling tools. There are tools with different groove shapes, which define the bending angle (e.g. 90° or 135°). We will be happy to advise you on the appropriate tool for your application on request.
In the second step, the remaining aluminum layer is folded around the V-groove, creating a precise and sharp edge with a radius of about 2 mm.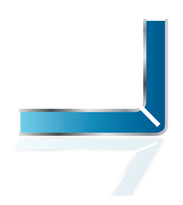 In cladding construction, this technique has become well established in the production of hook-in cassettes for invisible fastening. In modern architecture, individual 3D shapes are also increasingly being realized using the milling-edging technique to create individual facades.
****In following video you will find more information about the execution and references: