Sustainability
Product
polycon - Glass fiber reinforced concrete (GFRC or GRC) composition and properties
The construction industry is increasingly looking for more opportunities for "green" buildings, both in terms of the materials used and the structure's ability to make its internal configuration and application more environmentally conscious.
Concrete is the world's most sustainable building material when evaluated on a lifecycle basis. Polycon uses this key ingredient for its glass fiber reinforced concrete (GFRC or GRC) elaboration. Giving as a result a non-combustible (A1) ultra-strong composite consisting of cement (portland), fine aggregates (sand), polymers, water and a small proportion of equally dispersed alkali-resistant glass fibers. This unique blend enables GFRC to be high performance, lightweight, fatigue resistant, resilient, and attractive.
The premium quality alkali-resistance glass fibers serve as reinforcement, having a substantially higher tensile strength than steel or concrete, and a significantly greater flexural strength than normal concrete. Furthermore, it decreases the thickness and weight of conventional pre-cast concrete cladding by up to ten times, making it more cost effective.
Additionally, GFRC performs like a thermal regulator (DIN 4102) when exposed to fire. This means, glass fiber reinforce concrete not only will not burn, but it also protects the materials behind it from the heat of flames, UV light and temperature variations. Equally, the material is good for insulation purposes, keeping the temperature of the structure regulated so that it is cool in summer and holds the heat in winter. Hereof, less use of artificial heating and cooling; being these crucial aspects of creating "green buildings".
Sustainable Manufacturing of Cement
Our cement suppliers support market-based policies and initiatives that enable the industry's continued reduction of its carbon footprint in a responsible and sustainable manner. They have set a target of a 33% reduction in CO2 intensity of cement by 2030; and also to facilitate its member companies to achieve carbon neutrality across the concrete value chain by 2050.
In order to consistently reduce environmental impacts, cement producers have a strong culture of innovation that has led to gains in energy efficiency, application of new sustainable manufacturing practices and the increased use of alternative fuels. Thereof, improving the life-cycle performance of buildings and driving more sustainable outcomes in the built environment.
Additionally, concrete offers opportunities for permanent storage of carbon and our cement suppliers work to further develop the ability of concrete to become a solution to the climate challenge and not the opposite.
LEED, BREeAM, MINERGIE® and DGNB Enviromental Assessment Systems
Generally used for the purpose of sustainability assessment in buildings or neighborhoods and even economic and ecological issues, the various certification systems (national and international) are quantitative standards to measure the concept of sustainable development.
They focus on buildings in their construction or operatation phase and evaluate individually their environmental quality from quite similar aspects: impacts on ecosystems, impacts on climate change, impacts on hydrology and landscape, consumption of non-renewable energy resources, environmental aspects of used materials, quality of indoor building environment, construction and operation processes, etc.
There are precisely defined so-called credits or criteria for each certification, which, if fulfilled, equals to assigned points or an overall score. The resulting "score" (for a LEED sum total, for a BREEAM summed weighted average) means achieving a certain level of rating; the DGNB System does not evaluate individual measures but the overall performance of a building based on criteria. The MINERGIE® eco-label focuses on highering the valuation of energy-conscious construction that pursues a superior living comfort.
According to the overall score or reached criteria, the building /project receives an evaluation as follows:
LEED scale is: Not certified, Certified - Silver - Gold - Platinum.
BREEAM scale is: Unclassified - Pass - Good - Very Good - Excellent - Outstanding.
DGNB scale: Certificate or Pre-Certificate - Bronze - Silver - Gold - Platinum.
MINERGIE® standards: Minergie, Minergie-P and Minergie-A. With the addition of ECO, MQS Bau, MQS operation and the "PERFORMANCE" for larger buildings.
The results of these assessments can be useful for different groups, e.g. national and local governments, users, planners, builders, owners, investors, etc.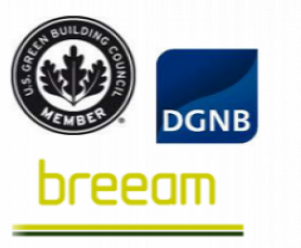 GFRC and Enviromental Assesment Systems:
It is essential to stress the general impossibility for a building product, a building material or another product to be certified as such. Hence, certified / rated is a building as a whole.
GFRC's attributes, longevity and properties may contribute to positive points or credits toward the above mentioned certifications.
To mention some, GFRC elements uses fewer resources than traditional products, is a termite resistant product, locally available, with no additional finish resources required in order to complete onsite application.
Among its ecological benefits for "green building", it contributes to reduced maintenance and repair, which lowers energy consumption and emissions. It can be supplied pre-finished to eliminate VOCs during painting, the lightweight panels use 80% less material than precast, as well as reduced fuel consumption and emissions due to reduced transport
Recycling:
Panels: When the lifecycle of a building made of reinforced concrete comes to an end, this is normally demolished and its residues are conventionally sent to the landfills. Mainly it is used as base layers and different backfilling and landscaping.
Thus, the resulting material from glass fiber reinforced elements are fully recyclable, as these residues are predominantly made from natural raw materials, these do not necessarily need to be downcycled, but the opposite, it's possible to upcycle these residues. Therefore, all the concrete mass treated can de incorporated into new concretes or as aggregates.
The application of recycled aggregates in new concrete formulations is regulated in the DAfStb guideline on concrete according to DIN EN 206-1 and DIN 1045-2 with recycled aggregates according to DIN EN 12620. Under these guidelines, RC aggregates may only be used up to a compressive strength of C30/37 for certain exposure classes.
Water: On January 2018, due to the urgency of water savings and the reduction of the carbon footprint, polycon implemented the use of recycled water in its elements' production process, utilizing an industrial sludge remover with press for desludging and impurities separation; consisting of liquid-solid separation, followed by thickening, dewatering or filtration of the slurry. This process creates a repetitive internal water circulation of clarified, clean, safe recycled water.
Waste:
Polycon's custom manufacturing enables effective planning and optimization, minimizing waste and maximizing the utilization of all production processes, resources and energy to try to emulate a sustainable natural cycle where all disposed materials become resources for other uses.
However, potential wastes are harmless, since the glass fiber reinforced concrete composition consist of mainly primary, rich and naturally occurring minerals. GFRC panel manufacturing produces less waste than precast panels and also uses fewer natural resources, often using recycled aggregates.
The production process of the GFRC elements produces no chemical off-gas or byproducts. Given that the fabrication is completed within the factory, much less waste is produced, thus contributing to a -noise and dust-free- site.
As every project is custom-made, so are the packaging and transport crates individually selected for every product, in order to barely produce waste.
Questions or queries? The CONAE GmbH team would be glad to provide you more specific, concrete information if needed.